Prohibited weapons being 'doctored'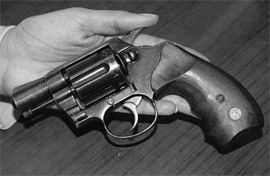 An arms dealer shows a revolver where the wooden handgrip has obscured some of the markings on the weapon. Tribune photo: Manoj Mahajan
Chandigarh, October 3
There are increasing attempts at prohibited bore (PB) firearms being "doctored" to pass them off as non-prohibited bore (NP) weapons to sell them at a significantly higher price.
If some arms dealers in the city are to be believed, they are getting weapons in which certain parts and components containing the weapons specifications and markings have been changed with locally fabricated parts carrying different information. Though the bore of the weapon remains unchanged, sellers try to pass it off as a different weapon.
"Around 20 per cent of the weapons that come in for resale are suspicious. Either there is something amiss about the way the metallic parts fit or the wooden stock or handle is not proper," a local gun dealer said. "The number of such weapons coming in have increased over the years," he added.
According to gun dealers, close examination by experts can reveal if the weapon has been tampered with and they do not entertain such cases. "There have been instances where a handgun's 'sleeve', which carries technical markings, had been changed with a locally fabricated one carrying fake markings," a dealer said.
One dealer even showed The Tribune a Colt whose wooden handgrip overlapped some markings on the weapon's body just above the trigger.
PB weapons are those that are used by the military or law enforcement agencies and are generally not available to the public. PB weapons possessed by individuals are those that have been allotted to them by the government and these include senior bureaucrats and defence officers.
"Since it is difficult to get a licence for a PB weapon, these do not command high market prices. A 9 mm PB pistol can be available for Rs 10,000-15,000," a local arms dealer, Gurpreet Bhandari, said. "A NP weapon on the other hand can fetch as high as Rs 3-4 lakh," she added. It is perhaps the desire to get high prices that drives people to doctor weapons.
Pointing out that doctoring weapons by fabricating their specifications was illegal and punishable under law, UT SSP S.S. Srivastava said so far the police had not received any formal complaint in this regard. He added that it was also the moral responsibility of gun dealers to bring such cases to the notice of the police.
The police as well as dealers admit that there are certain arms dealers and repair technicians in some parts of the country that are known to be involved in doctoring weapons or modifying them without authorisation.
A dealer cited an example where the owner of a revolver had the barrel of his weapon shortened by almost two inches.
Police sources said apart from doctoring weapons, fake pistols are also in circulation. "Locally fabricated pistols carrying 'Made in USA' markings are making their way into Punjab from Western Uttar Pradesh," a Punjab Police officer said.
"Prices of such weapons are quoted between Rs 10,000 and 15,000, though depending upon bargaining they can go as cheap as Rs 5,000," he added.
Police officers estimate that around a dozen such weapons are smuggled into Punjab every month and these find their way into the hands of criminal or subversive elements.