The Indian National Army infantry weapons
Provisional Government of Free India (Azad Hind)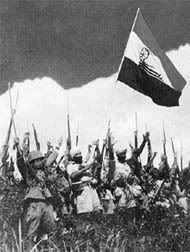 The Azad Hind movement under Subhas Chandra Bose thought they could bring about the independence of India from British rule by siding with the Japanese. The government's armed forces, called the Indian National Army, were formed in 1942 and reached a peak size of 43,000.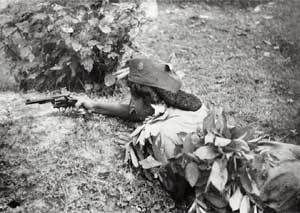 Female INA soldier in training
The troops were recruited primarily from Indian POWs. Some men who refused to join were shot. The INA was involved in heavy fighting in the Burma theater from 1943 to 1945. The unit was equipped with Commonwealth weapons captured in Singapore.
The Indian National Army used the following infantry weapons:
SMLE Mk.III rife

Bren light machine gun

Vickers machine gun

Boys antitank rifle

Mills bomb (primarily carried by NCOs)